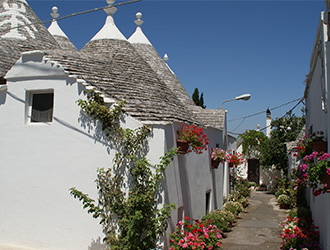 Alberobello
Between the land of Bari and ' high Salento famous for residential sue Features Call trulli That , since 1996 UNESCO's World Heritage are , is part of the Valle d' Itria .
The history of buildings Very THESE DETAILS AND Tied to an edict of the Kingdom of Naples in the fifteenth century underwent a tribute EVERY new Urban settlement . The Counts of Conversano , owners of the land on which it stands today Alberobello , imposed then to the farmers in Sent THIS Lands Edificare dry , without using mortar , Their residential, so That they could be configured precarious construction , demolition easy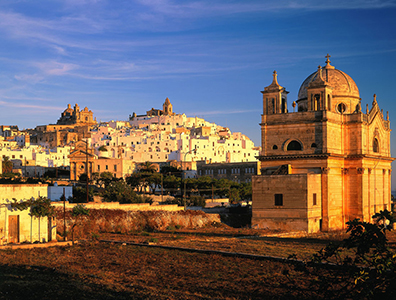 Ostuni
Ostuni, also known as White City strong>, because of its quaint old town completely painted with white lime.
Ostuni is a fascinating tangle of narrow, winding streets, a succession of courtyards, squares and narrow streets that once were owned by five doors opening in the wall, with towers, machicolations and hoardings. The only true way to reach the summit of the " Cone strong>" and dividing the Old Town strong> into two parts is via Cathedral strong>, while all others that intersect it are dead ends or narrow and steep stairways. Here are cubicolari homes, often dug into the rock, connected by arches and semi-arches that act as buttresses and support; as well as palaces, for coats of arms, portals and the variety of architectural lines, with patches of golden ocher shade the blinding glare of the white maze, on top of the hill, finally, there is the Cathedral, a wonderful blend of elements Romanesque, Gothic and Venetian.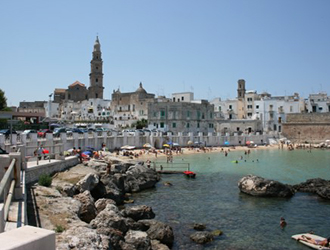 Monopoli
A unique coastline and amazing frame of a clean sea and bathing. The coast, approximately 13 kilometers long, is an expanse of white sandy beaches and coves solitary. On foot or by boat you can reach the bays so dear to regular vacationers. Water is transparent and irresistible. The cliffs are sweet and harmonious, evocative full of ravines, gorges and escarpments. Dozens of coves lend anchor but there are some particularly beautiful "White Harbor," "Port Red", "Port Paradise", "Porto Shirt", "Porto Marzano" strong> and then the beautiful falls "Green" in which they can enjoy magical shimmering moon. To the south of Monopoli along the beach is composed of fine sand, soft and golden, there are stretches of beach and numerous beaches. They are organized and well equipped with kiosks, bars and eateries, with cabins, umbrellas and sunbeds, skate rental and pedal, with areas dedicated to sports like basketball, beach volleyball, bowling, football, swimming, motor boating and wind surfing, and also for entertainment the little ones. The 'Chapter' is also the center of nightlife of Monopoly and neighboring countries. Have flourished in recent years, many clubs and dance floors even on the sand always crowded, especially on the evenings of Friday and Saturday.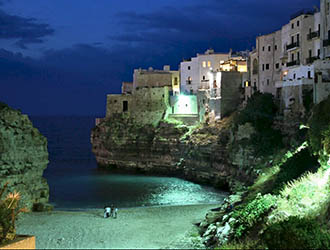 Polignano a Mare
Walking through the narrow streets of the old town, including crafts shops and nightlife, you can see the small courtyard houses whitewashed calc strong> and and terraces from which you can appreciate the unique view of the high cliff the vast and deep caves from which is dotted.
You can also see up close these caves, visiting the spectacular cave Palazzese strong> (home to a restaurant where you have to request access) or along the narrow staircase carved into the rock that leads to an artificial balcony, or doing a tour boat.
Another viewpoint is popular Cala Fear strong>, the deep inlet of the old port located at the northern entrance of the city.
Worth a visit to the palace Pino Pascali Via Mulini strong>, from which a permanent exhibition of works by the artist and which organizes regularly